Business and Project Management for the
Professional Remodeler and Specialty Contractor
Clean • Concise • Detailed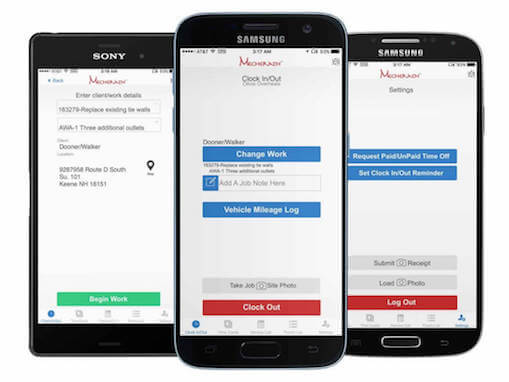 Mobile Time Card
If you're like a lot of contractors, tracking your employees time and what they are doing can be a challenge, with Mecherath, that just got easier. Mecherath's Time Card System allows you the ability to track things about your project by the categories you set up, as contractor software should.
Your employees always have the time clock with them to punch in and out, no more excuses for not tracking the project and work description, including Punch List and Change Orders. Mecherath includes other features for the employee/employer.
Designed for iPad, iPhone, desktop Mac or PC, and mobile browsers.
Renovation, Repair, and Paint Rule
The First And Only Software For The RRP
RRP software you can use on site that lets you record every step of the process, full documentation:
Exempt

Lead Testing

Pre-Notifications

Set Up

Clean Up

Clean Verification

Documentation & Mail

Print/Email Notices
Provide the signage, documentation, and reports required by the EPA RRP.
Workman's Comp is Expensive
Lower your workman's compensation cost immediately by tracking the category of work when the employee clocks-in/out. Pay for the actual work category performed, rather than having everyone grouped into one or two categories possibly costing you more money, maybe a lot more. One company saved over $72,000 the first year.
By tracking your workman's comp accurately, you lower your insurance cost with Mecherath's automatic feature, built into our time card. A little work is required to correctly set up your work comp categories and maybe even a call to your insurance agent for the correct rates. We will walk you through the entire process in Mecherath's Live Online Trainings held every week, included. The whole process usually takes about 15-20 minutes to set up.
Reporting is fast and easy, takes less than a minute to be prepared for your monthly/quarterly/yearly insurance audit, no more dreading you have the correct information or are paying too much.
Expected | Needed | Included
Features you want and need to keep your business running smooth and profitable.